The Needham Channel was opened in 1984, with the first broadcast of The Needham Channel News in 1987.  Our current staff features several television professionals who have been working in the field for decades.  They are listed below, along with their phone extension at the office and email.
Marc Mandel – Executive Director
(781) 449-6964 x.7  –  mmandel@needhamchannel.org
You can call him the Wizard of TNC, because Marc is the one behind the scenes making everything work!  A former volunteer, Marc started working full-time here in 1995 as a Production Assistant, working his way up to News Director and finally the big boss when TNC became its own entity in 2002.  Growing up in Needham and graduating from NHS, Marc co-produced a documentary about the history of Needham for the town's 300th anniversary. The program, "Big Little Town," aired on PBS and you can still see it on our TNC airwaves, as well as here on needhamchannel.org!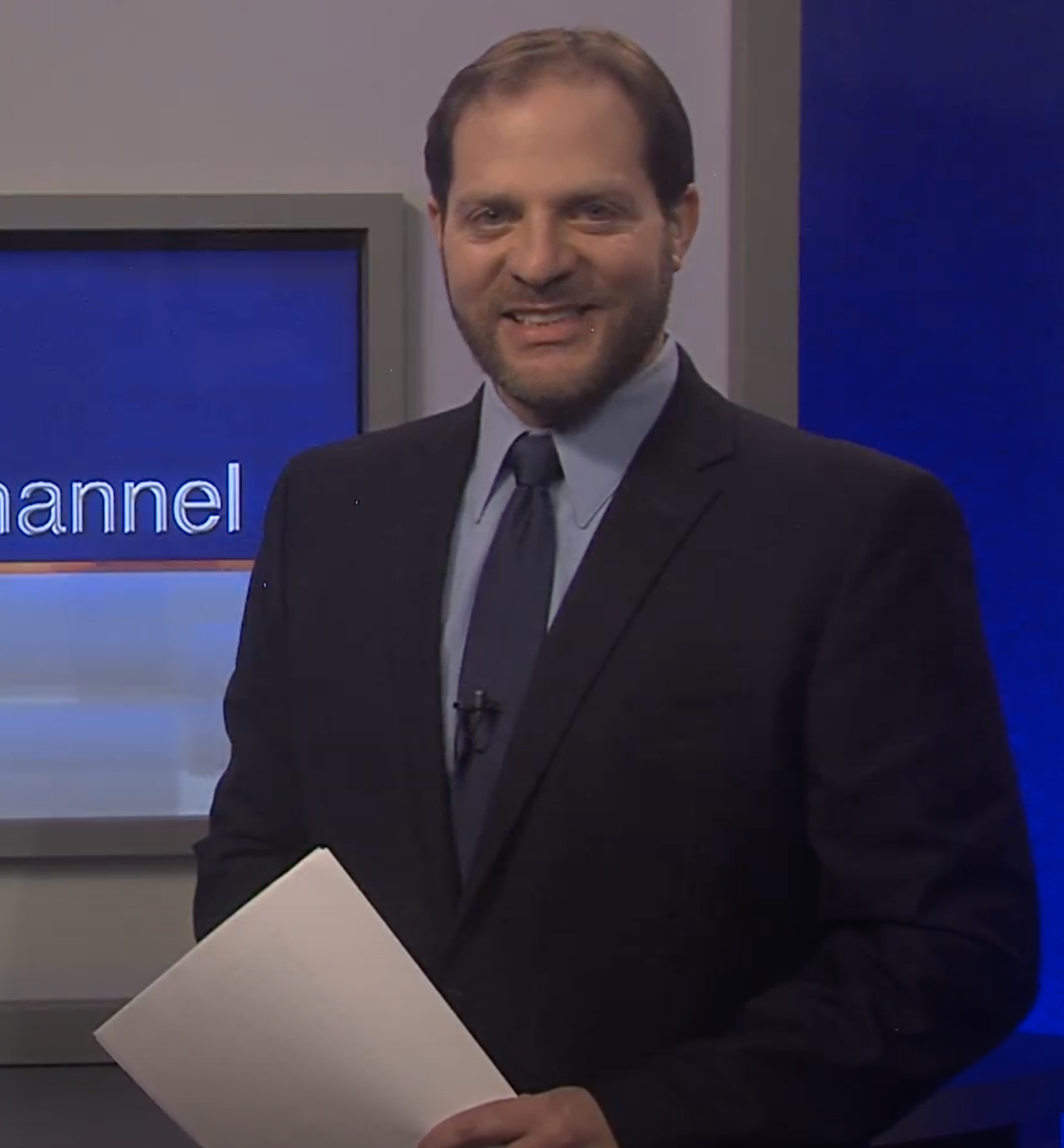 Mike Levin – Programming Manager                                     (781) 449-6964 x.6 – mlevin@needhamchannel.org
Another local boy, Mike started volunteering at TNC while going to Pollard Middle School, mainly helping with sports productions until he graduated from NHS.  After college, he returned to Needham Channel Sports, broadcasting games, as well as anchoring and reporting on the "Needham Channel News."  After a decade out of state working in Sports Broadcasting, Mike was excited to return to his roots in 2016, serving as Municipal Affairs Producer before stepping into his current Programming role.  You can see and hear Mike on NCN, NCS and other programs, including our recent specials on the Needham-Wellesley Thanksgiving Football Rivalry.
Ashley Morin – Director of News and Public Affairs          (781) 449-6964 x.1 – ajulier@needhamchannel.org
Ashley is the woman behind the scenes that puts together our weekly live "Needham Channel News," which has been on the air since 1987. If you have an idea for a news story, send her an email.
Natalie Guthrie – Education Producer                     (781) 455-0800 x2345 – nguthrie@needhamchannel.org
Natalie started out as a Production Assistant many years ago here at TNC and worked her way up to News Director, before settling into her current role as Education Producer. Splitting time between Needham High School and The Needham Channel, Natalie teaches the TV Production Classes at NHS, produces Superintendent Gutekanst's "Needham School Spotlight" show, all while producing and editing several specials every year, including the Distinguished Career Awards, the Martin Luther King Jr. Celebration, as well as a recent documentary detailing the history of the METCO Program in Needham, of which she is a graduate.
Derick Risner – Special Projects Producer                        (781) 449-6964 x.4 – drisner@needhamchannel.org
Derick is a Needham native who started volunteering at TNC and his drive and enthusiasm eventually earned him a full-time job here! As Special Projects Producer, Derick has put together several documentaries we have aired the last few years, one documenting the William Baker Ridge Hill Estate ("Beautiful and Bizarre"), another about the infamous robbery of Needham Trust Company in 1934 ("The Millen-Faber Gang"), the first ever exchange trip by Needham students to Daxing, China ("More Than a Field Trip"), as well as an ongoing series of documentary shorts on the schools of Needham.
Yuxiao Yuan – Municipal Affairs Producer                            (781) 449-6964 x.3 – yyuan@needhamchannel.org
Yuxiao joined our staff in the summer of 2019 and has been hard at work covering our municipal meetings, including Town Meeting, Select Board, School Committee Zoning Board and many others. Coming to the US all the way from China, she works tirelessly to report on those meetings, as well as producing several municipal specials throughout the year.
Kristen Connors – Sports Producer                                (781) 449-6964 x.5 – kconnors@needhamchannel.org
A native of Wilmington, Kristen was part of the final graduating class of Newbury College, where she played for the Women's Basketball team. Joining TNC in the summer of 2019 as our Assistant Producer, Kristen contributed to both news and sports productions until her promotion in January to Sports Producer. You can hear her on many of our high school sports broadcasts, as well as anchoring sports on the Needham Channel News.
Jessica Burks – Production Assistant                                  (781) 449-6964 x.8 – jburks@needhamchannel.org
Jessica started with us in September 2019 and has worked on a ton of productions, ranging from municipal meetings, special events and much more. She also contributes regularly to the Needham Channel News, as a reporter and movie reviewer. A native of Norfolk, Jess is a graduate of UMass Amherst, has worked on a few movie sets, and has appeared in 2 episodes of the Netflix series "The Society."