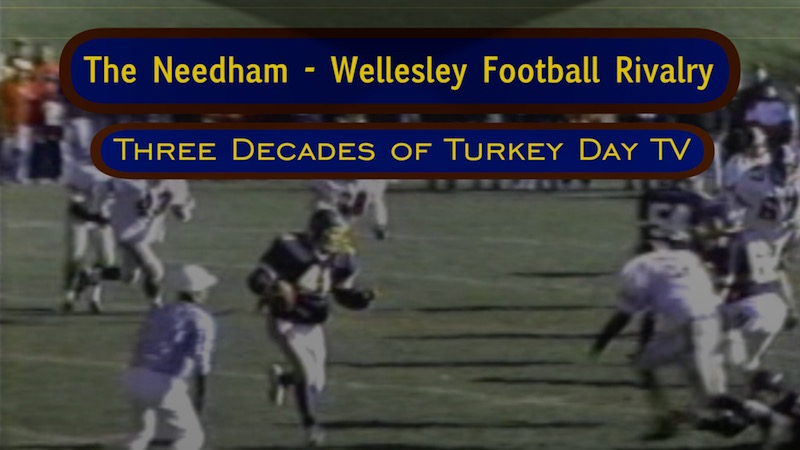 Needham Channel Sports is proud to present a program three decades in the making! To celebrate the 130th edition of the Oldest Public High School Football Rivalry in the country, we went back into our archives of every Thanksgiving Football game we have between Needham and Wellesley and picked out some of the best moments captured by our cameras.  We also talked with several people who have been heavily involved with the rivalry, both on and off the field.
Produced by TNC Programming Manager Mike Levin and hosted by Mike and Sports Producer Chris Dugan, "The Needham-Wellesley Football Rivalry: Three Decades of Turkey Day TV" will debut on our airwaves Thanksgiving Day at 5pm on our Education Channel, then on our Community Channel at 7:30pm, in place of our weekly live Needham Channel News broadcast.  Both premieres will be immediately followed by the channel premieres of the 2017 Thanksgiving Football game, at 6pm on the Education Channel and at 8:30pm on the Community Channel.  The Special and the 2017 game will air back to back Thursday night and all through Friday on the Education Channel.
TNC will be running the Turkey Day special on both the Community and Education Channels until our coverage of the new Rockets winter season commences in Mid-December. We will also be taking requests for copies on DVD and Blu-Ray and will have more information coming soon.
Here is the broadcast schedule for both the special and the 2017 edition of the Needham-Wellesley game through Thanksgiving weekend:
Thursday, November 23, 2017
Education Channel
5pm        "The Needham-Wellesley Football Rivalry: Three Decades of Turkey Day TV"
6pm          Needham vs. Wellesley Thanksgiving Football 2017
8:30pm  "The Needham-Wellesley Football Rivalry: Three Decades of Turkey Day TV"
9:30pm    Needham vs. Wellesley Thanksgiving Football 2017
Community Channel
7:30pm  "The Needham-Wellesley Football Rivalry: Three Decades of Turkey Day TV"
8:30pm    Needham vs. Wellesley Thanksgiving Football 2017
11pm       "The Needham-Wellesley Football Rivalry: Three Decades of Turkey Day TV"
Friday, November 24, 2017
Education Channel
12am        "The Needham-Wellesley Football Rivalry: Three Decades of Turkey Day TV"
1am            Needham vs. Wellesley Thanksgiving Football 2017
3:30am    "The Needham-Wellesley Football Rivalry: Three Decades of Turkey Day TV"
4:30am     Needham vs. Wellesley Thanksgiving Football 2017
7am          "The Needham-Wellesley Football Rivalry: Three Decades of Turkey Day TV"
8am           Needham vs. Wellesley Thanksgiving Football 2017
10:30am  "The Needham-Wellesley Football Rivalry: Three Decades of Turkey Day TV"
11:30am    Needham vs. Wellesley Thanksgiving Football 2017
2pm          "The Needham-Wellesley Football Rivalry: Three Decades of Turkey Day TV"
3pm           Needham vs. Wellesley Thanksgiving Football 2017
5:30pm     "The Needham-Wellesley Football Rivalry: Three Decades of Turkey Day TV"
6:30pm     Needham vs. Wellesley Thanksgiving Football 2017
9pm           "The Needham-Wellesley Football Rivalry: Three Decades of Turkey Day TV"
10pm         Needham vs. Wellesley Thanksgiving Football 2017
Community Channel
1am            Needham vs. Wellesley Thanksgiving Football 2017
3:30am     "The Needham-Wellesley Football Rivalry: Three Decades of Turkey Day TV"
4:30am     Needham vs. Wellesley Thanksgiving Football 2017
9am           Needham vs. Wellesley Thanksgiving Football 2017
6pm          "The Needham-Wellesley Football Rivalry: Three Decades of Turkey Day TV"
7pm           Needham vs. Wellesley Thanksgiving Football 2017
Saturday, November 25, 2017
Education Channel
2am          "The Needham-Wellesley Football Rivalry: Three Decades of Turkey Day TV"
3am           Needham vs. Wellesley Thanksgiving Football 2017
5:30am    "The Needham-Wellesley Football Rivalry: Three Decades of Turkey Day TV"
6:30am     Needham vs. Wellesley Thanksgiving Football 2017
4pm          "The Needham-Wellesley Football Rivalry: Three Decades of Turkey Day TV"
5pm           Needham vs. Wellesley Thanksgiving Football 2017
Community Channel
2am          "The Needham-Wellesley Football Rivalry: Three Decades of Turkey Day TV"
6am           Needham vs. Wellesley Thanksgiving Football 2017
5pm          "The Needham-Wellesley Football Rivalry: Three Decades of Turkey Day TV"
6pm           Needham vs. Wellesley Thanksgiving Football 2017
11:30pm   "The Needham-Wellesley Football Rivalry: Three Decades of Turkey Day TV"
Sunday, November 26, 2017
Education Channel
2am          "The Needham-Wellesley Football Rivalry: Three Decades of Turkey Day TV"
3am           Needham vs. Wellesley Thanksgiving Football 2017
10:30am  "The Needham-Wellesley Football Rivalry: Three Decades of Turkey Day TV"
11:30am    Needham vs. Wellesley Thanksgiving Football 2017
6:30pm    "The Needham-Wellesley Football Rivalry: Three Decades of Turkey Day TV"
7:30pm     Needham vs. Wellesley Thanksgiving Football 2017
Community Channel
12:30am   Needham vs. Wellesley Thanksgiving Football 2017
1pm          "The Needham-Wellesley Football Rivalry: Three Decades of Turkey Day TV"
2pm           Needham vs. Wellesley Thanksgiving Football 2017