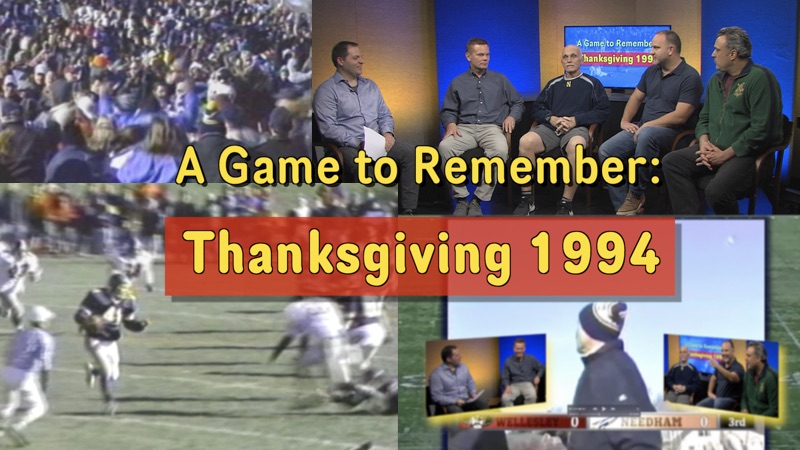 This Thanksgiving, The Needham Channel is taking a look back at one of the most exciting entries in the Oldest Public High School Football Rivalry in the Country. 25 years ago, the Rockets pulled off a stunning upset of the Raiders, winning on an amazing play in overtime.
In "A Game to Remember," host Mike Levin moderates a round table consisting of former TNC Play-By-Play Announcer Scott Stevens, former NHS Head Football Coach Roy Johan as well as two of the captains of that 94 team, Dan Hopkin and Dan Scalia, both of whom played key roles in that final play.
While watching highlights of the game, the panel will discuss how the game unfolded, funny stories from the sideline, how "The Play" came to fruition and much more.
This special celebrating the 25th Anniversary of the 1994 Needham-Wellesley Thanksgiving game will debut on Turkey Day eve, Thursday, November 28th at 5pm on our HD (Channel 2129 on Verizon Fios) and Community Channels (29 on Verizon, 9 on Comcast and 15 n RCN), right before the debut of the 2019 game at 7. "A Game to Remember" will also air at 6pm on our Education Channel (Channel 31 on Verizon, 8 on Comcast and 3 on RCN), as well as on a rotating schedule with the 2019 game all the way through the day after Thanksgiving, November 29th.
Watch for a full programming schedule for broadcast times of "A Game to Remember," the 2019 Thanksgiving Game, as well as our Thanksgiving Football Classics Marathon, here on needhamchannel.org.