Three Democratic candidates for Norfolk County sheriff met virtually on Wednesday, July 29th, to share their platforms and ideas with voters. The forum was hosted by the League of Women Voters of Needham in collaboration with their counterparts across the county.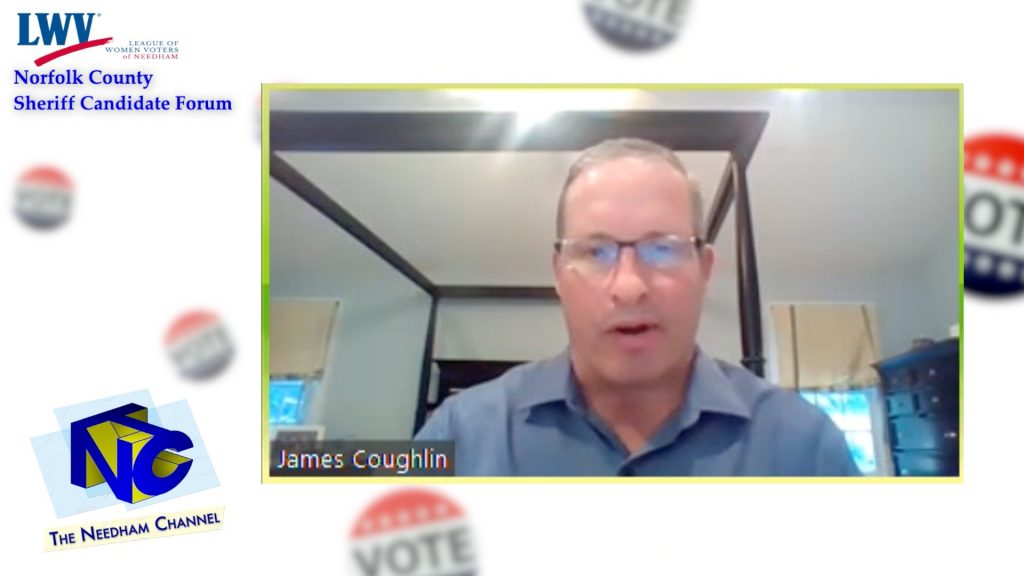 James Coughlin, a retired State Police detective captain from Dedham, said that he's running for the position as a "public safety professional". Coughlin also said that he would look at housing women at the Norfolk County House of Corrections, which currently only houses men. Female inmates are usually prisoned at a state institution in Framingham. His other priorities would include allowing inmates to use tablets for communicating with families and receiving education, which he believes would curb drugs from being brought into the facility. He also advocated for creating a separate mental health unit in jail.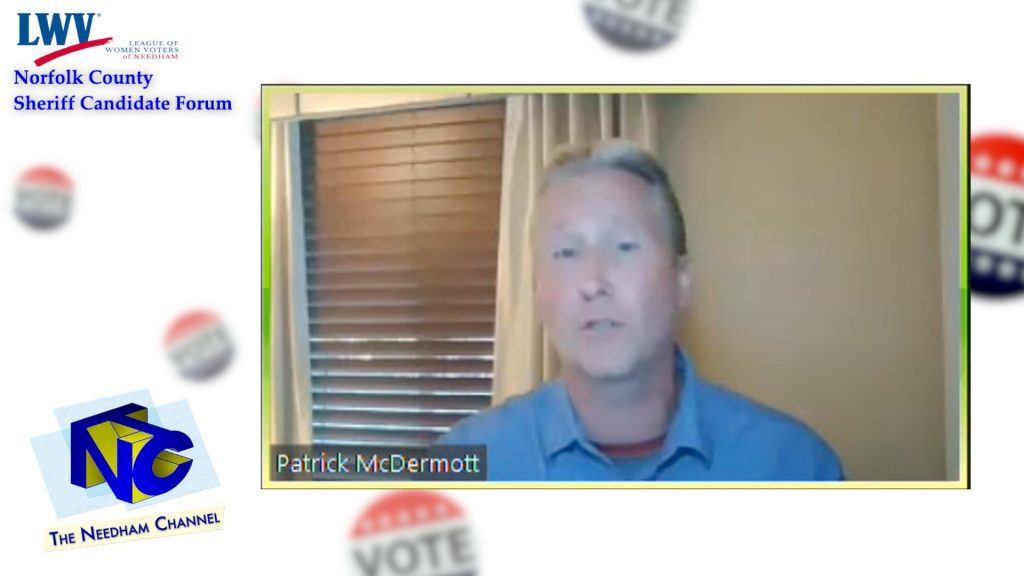 Patrick McDermott, the current County Register of Probate and a former Quincy City Councilor, said that his vision for the role of sheriff is as the county's "Chief Public Safety Officer". He would not only run a proper and efficient corrections system, but also implement a holistic approach to address the core issues that undermine public safety.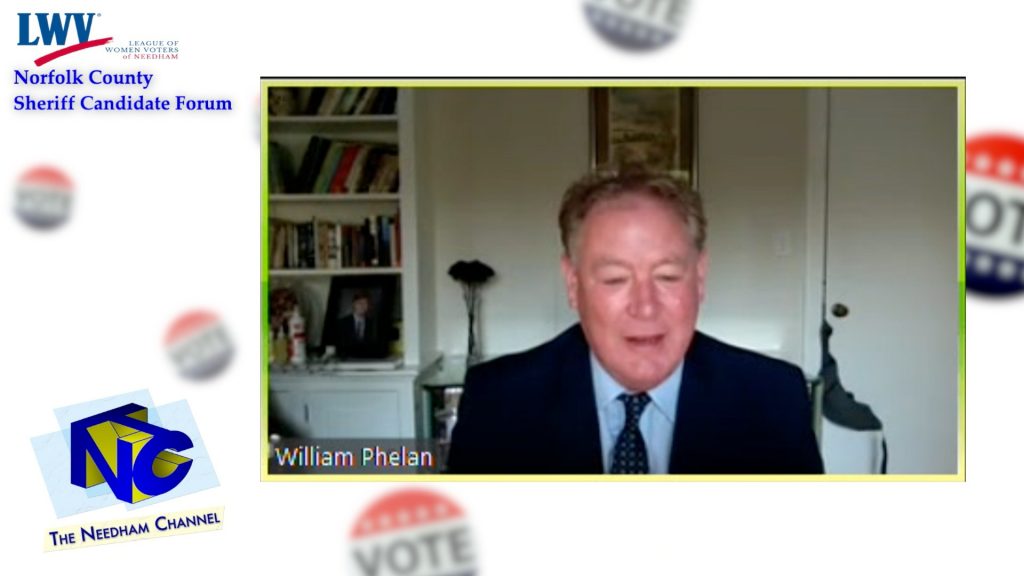 Bill Phelan, a former three-term mayor of Quincy, describes himself as a "progressive reform candidate." Phelan said that he is determined to reduce the 50 percent recidivism rate in Norfolk by providing a continuum of care program that serves inmates before, during and after incarceration. Phelan said that he would also champion of both racial equity and bail reform. "Bail amounts for people of color are higher than their white counterparts," noted Phelan.
In response to a question about reducing the repeat incarceration, Coughlin said that he would work with other community resources to create more opportunities for former inmates.
"A sheriff needs to be out in the community to create these partnerships and do your better jobs with trades, schools and treatment programs," said Coughlin.
Phelan mentioned his experience as the former Quincy mayor. He had worked on a nationally recognized program called End Chronic Homelessness, which provides permanent housing with all kinds of services including mental health and substance abuse counseling.
McDermott sees providing job opportunities as the key to reducing recidivism rate. He said that his union connections would help provide jobs for inmates who re-enter society.
Answering questions about racial bias issues and diversity in law enforcement, each candidate mentioned that training is important. In addition, McDermott said that he would hire a Chief Diversity Officer, who would ensure that the employees of the county jail reflect the community's population. A similar position has been placed in the Norfolk Probate and Family Court. "There are some hard conversations that occur when you diversify your workforce," said McDermott. "I've had the experience because I've already done it in the trial court. "
Phelan said that his staff would reflect not the community's population, but that of the inmate population. He talked about creating an open process through which inmates could file any racial concerns and claims. Phelan also said that he would report validated claims to the community as transparently as possible.
Coughlin said that racial profiling is unacceptable and that the violators "would be punished, if not fired". Coughlin also mentioned that he would be on the frontier of recruiting. "Go to colleges, go to elementary schools, high schools. You have to promote your business and show people what a great job it is," said Coughlin.
A question concerning bail reform was also brought up by the audience.
"Sometimes bail is used abusively, for punishment purposes. Bail should only be used to secure that person's appearance at court," said McDermott. "There is a bracelet program in the Norfolk County jail that should be expanded…we need to get more creative with our court systems, focusing on diversion programs."
Phelan believes that the current bail system is unfair to people of color and favors the wealthy. He wanted to create some "mini programs" which would allow people to acquire accomplishments during the pre-trial incarceration. Based on their accomplishments, they would have a chance to get released.
Coughlin said that non-violent criminal offenders should not have to be incarcerated. "If you are violent criminal offenders, you're going to have a high bail, because you are a threat to public safety," said Coughlin. "Any non-violent criminal offenders who can't afford to be bailed because they don't have the money…it needs to be fixed."
Whoever wins the Democratic primary on September 1st will challenge sitting Republican sheriff Jerry McDermott, who was appointed by Governor Charlie Baker to serve out the end of the former sheriff Michael Belotti's term. Belotti stepped down in 2018 to become the president of Quincy College.
Click

here

to watch the entire forum.