American Flags displayed in Needham to celebrate the fourth of July were found burned over the weekend. According to the Needham Police Department, around noon on Sunday, July 5th, they were approached by a passerby who stated that some of the flags at Memorial Field appeared to be damaged. The police officer found out that 15 flags placed on the lawn and another 15 flags lined up along Highland Avenue were burned.
Video Courtesy of

Je

remy Cohen shows the burned remains. 
Kate Robey, who works with Needham VFW, has volunteered to set up flags since the 10th anniversary of the 9/11. She expressed her feelings on Facebook: "You who know me know these flags mean a lot to me. Not just to show my patriotism and love of my town and country but it's a time for me to remember our heroes that have died for our freedom and those who have (my Veterans) and are fighting for our freedom. I'm heartbroken. 9 years and never a flag taken. The country's chaos has hit home. If you want to burn your own flags that's your choice but don't touch mine!! "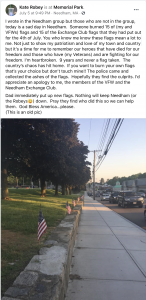 On Monday, The Needham Channel received a statement from Dana Storrs, Commander of Needham VFW, and Tom Keating, Chaplain of Needham VFW.
❝ The Needham Veterans of Foreign Wars Post 2498 is saddened and disheartened to learn of the vandalism of American Flags at Memorial Park during the 4th of July weekend.

 

Several flags were burned or stolen.
These flags are provided to a Needham citizen who volunteers to place the flags along the Park at many patriotic observances in town.We do not know if this was a protest, or just vandalism.
Flag burning itself is a right as a form of protest, and while we may not like it, it is a constitutional right we, as Veterans, fought to preserve.
When asked why this citizen displays the flags, she answered,"I put these flags out to remember how lucky we are to be Americans, to remember our men and women who have, and currently, fight for our freedom and for those heroes that gave the ultimate sacrifice and their families. These flags mean a lot to me."
She continued, "I hope they find who did this. I would love to have them help me put out the flags on August 7th for Purple Heart Day. We need to respect each other and live the golden rule. 'Do unto others as you would have them do unto you'. God Bless America…we need it right now."
Speaking on behalf of the members of our post, we agree with her.❞
The Police Department said they are still investigating the matter.
————-