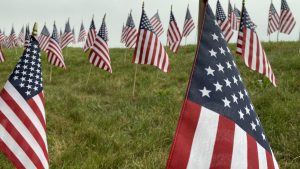 This year, Independence Day looks a little different in Needham, MA. While the usual fireworks and parade didn't happen this year, the Needham Exchange Club still is doing what they can to make the day festive and safe.
In the morning, they held a flag raising at the Needham Town Common, followed by a town vehicle parade. With a noon flyover, and area churches marking the day with a ringing of the bells for first responders, there was still plenty of patriotism and community spirit to go around.
At the Needham Channel, we brought live coverage of the morning parade (Thanks to those who stopped by our cameraman to say hello!). We will also be bringing you a special retrospective of our July 4th parade coverage, which will air throughout the month. We wish you a happy and safe holiday. We can't wait to see you again next year!